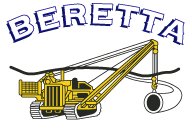 Beretta
Welcome to our profile, we encourage you to visit our website, give us a call! At Beretta, we set ourselves apart from every other construction company simply by our strong philosophy and our work culture. We are our own competition and through every project, we set new standards and expectations of ourselves. We build relationships while we build things!
Date: 29 May 2020
Beretta Pipeline Construction—a 100% First Nation owned company—provides reliable and customer focused construction services to the oil and gas, civil construction, and environmental industries. Our company has a long history, which began in 1977. In 2003, the company was purchased by Onion Lake Energy Ltd. Since then, we've grown into a diversified company working across Western Canada.
Media Contact
Contact Person: Beretta Pipeline Construction LP. offers: New construction of steel and fiberglass pipeline Steel and fiberglass pipeline replacement Lowering and repairing existing pipelines Oil gathering systems Hot oil transmission lines Oil and condensate transmission lines Gas gathering system and sales lines Road crossings – punched and bored Directional drilling crossing of roads, rivers and muskeg, etc. All spoolable pipe including HDPE, Flexsteel, Flexpipe, Fiberspar.
Contact Email: We have the experience, knowledge and strategic partners to deliver a solution on time and within budget! We build relationships that last a lifetime and for generations to come!